Welcome Money Magician,
If you're done:
♦️ Feeling powerless and overwhelmed with money, especially with making money and increasing your income
♦️ Playing small and shrinking yourself
♦️ Working hard but not seeing the financial results of your work
♦️ Not being able to set clear financial boundaries with family and friends

♦️ Having brilliant money ideas you cannot execute
And are ready to:
🌟 Unlock your ancestral wisdom around money
🌟 Create a consistent stream of income of R40,000/US$2500 or more a month
🌟 Start working on your financial expansion from a space of ease
🌟 Follow your own intuitive nudges on how to grow your income and believe in yourself and your gut
🌟 Set bold limitless money goals that grow steadily over time
Then the Money Magic course is for you!

This isn't your traditional personal finance course where I'll be teaching you one true strategy to make money or save money or pay off debt.
And I won't be teaching you tips and tricks or asking you to always be super positive or only bring good vibes into the space.
Nope!
This is a course where you get to be fully you and make money by being yourself, feel your feelings and tap into your own inner wisdom and ancestral wisdom.
We've been taught that hard work, education, cutting back on expenses and being super positive thinkers is what leads to increased income, a cash life and living our best lives.
For most of us, this model of success doesn't yield financial results and leaves us feeling like there's something wrong with us, leaves us doubting our ability to make money and maybe even feeling like money is this big mystery we can never solve.
I understand this feeling and these doubts so well.
I got the Finance degree and then I got an MBA and still found myself struggling to pay for my basic life expenses and I felt deeply ashamed.
I worked 16 hour days in my first business and I made $500, about R7500 income in 3 years and had to rely on friends and family to cover my basic expenses.
Eventually I got so depressed I couldn't get out of bed and started having panic attacks whenever I would go to the ATM to withdraw money and I couldn't talk about money to anyone (or even invoice or share the prices of my services) without shaking and freaking out.
I knew that there was more to money than just positive thinking, budgeting and cutting back on expenses so I started following an approach/methodology that I call unlocking ancestral wisdom.
I saw the impact this work had on my life and how creating a consistent stream of income on my terms without the hard work philosophy has changed my life:
💥 I paid off my US$60,000 (R700,000 at the time) in debt in 4 years (which was in US dollars and pounds
💥 Launched my company Wealthy Money where I make US$100,000 working virtually from anywhere in the world. I have lived in 10 counts
💥 Started traveling as I grew this company. I have location independence and according to Google maps, I have been to 20 countries in the last 7 years and have not stayed less than 30 days in most countries
💥 I started my property investing journey and in the process of building a property portfolio and was able to buy one of my properties cash in Johannesburg, South Africa
💥 I've had the time to help one of my aunts become debt free, which led to her building back rooms to make extra income and her taking early retirement
💥 I was able to renovate my mom's house (without taking on credit) so she can host guests and make money. My expansion has literally helped her create an extra income stream
💥 I've been able to gift my mom with a 3 week vacation to Sri Lanka and Thailand, which included a 2 week retreat in Chiang Mai, where she received 5 hour massages everyday for 2 weeks
💥 I was able to gift my sister, with a trip to Vietnam because it was her dream country to visit and we got to travel together and share the experience
💥 I had the time flexibility and funds to so to go to India for a friend's wedding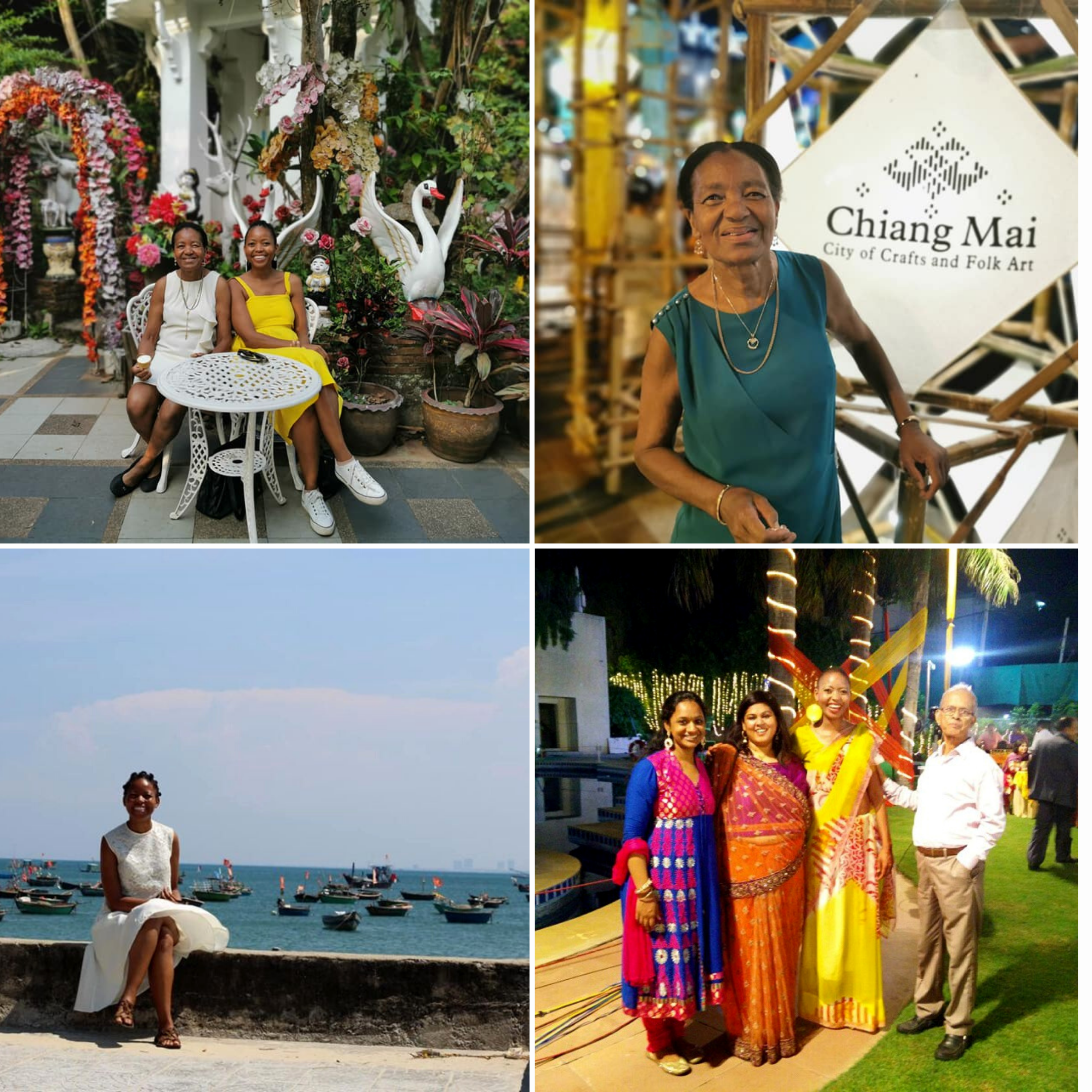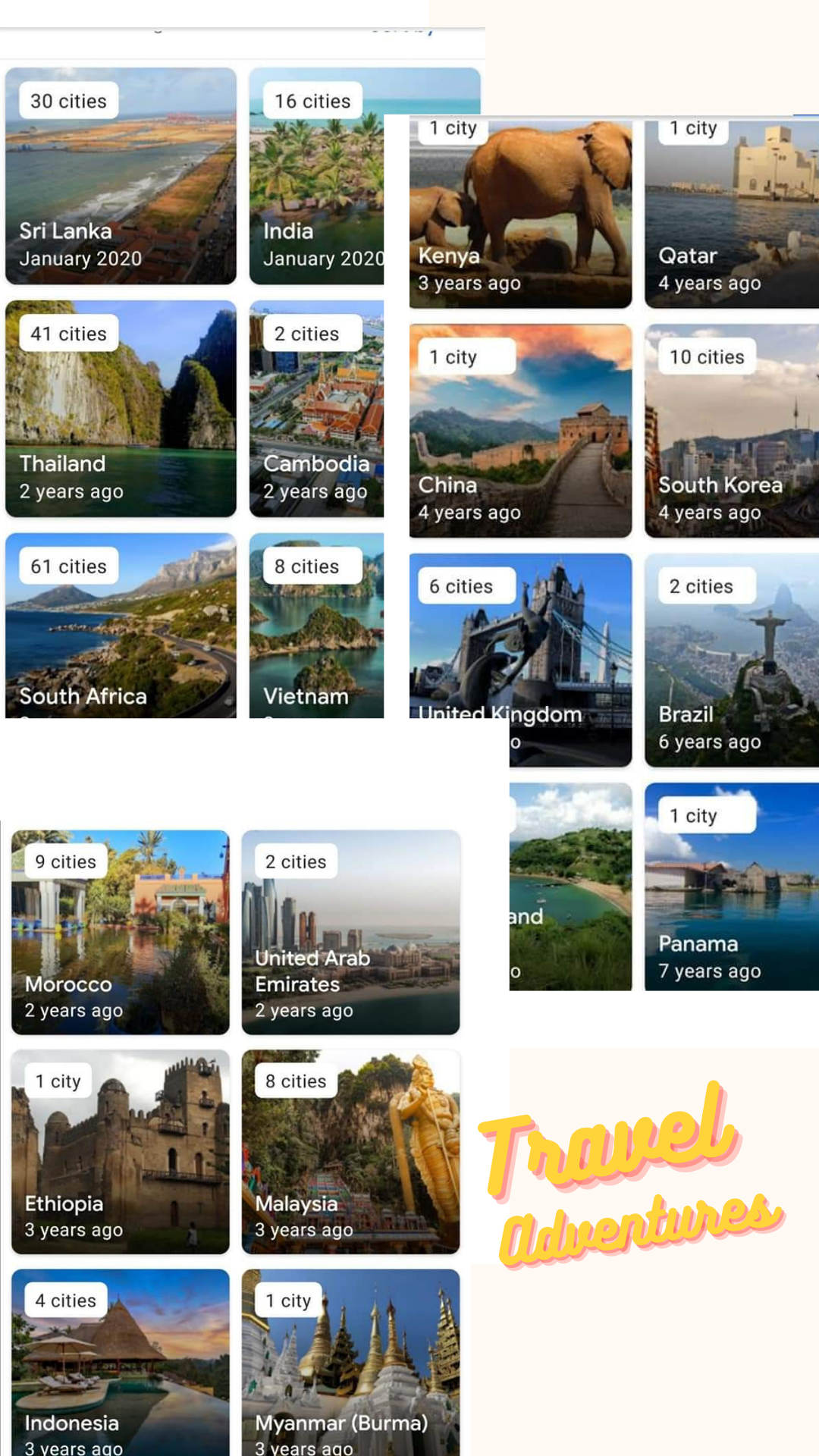 I have also seen the shift that clients and students have had from this work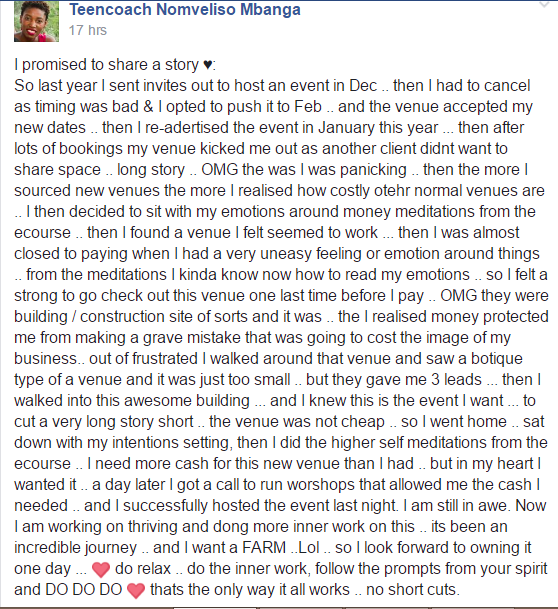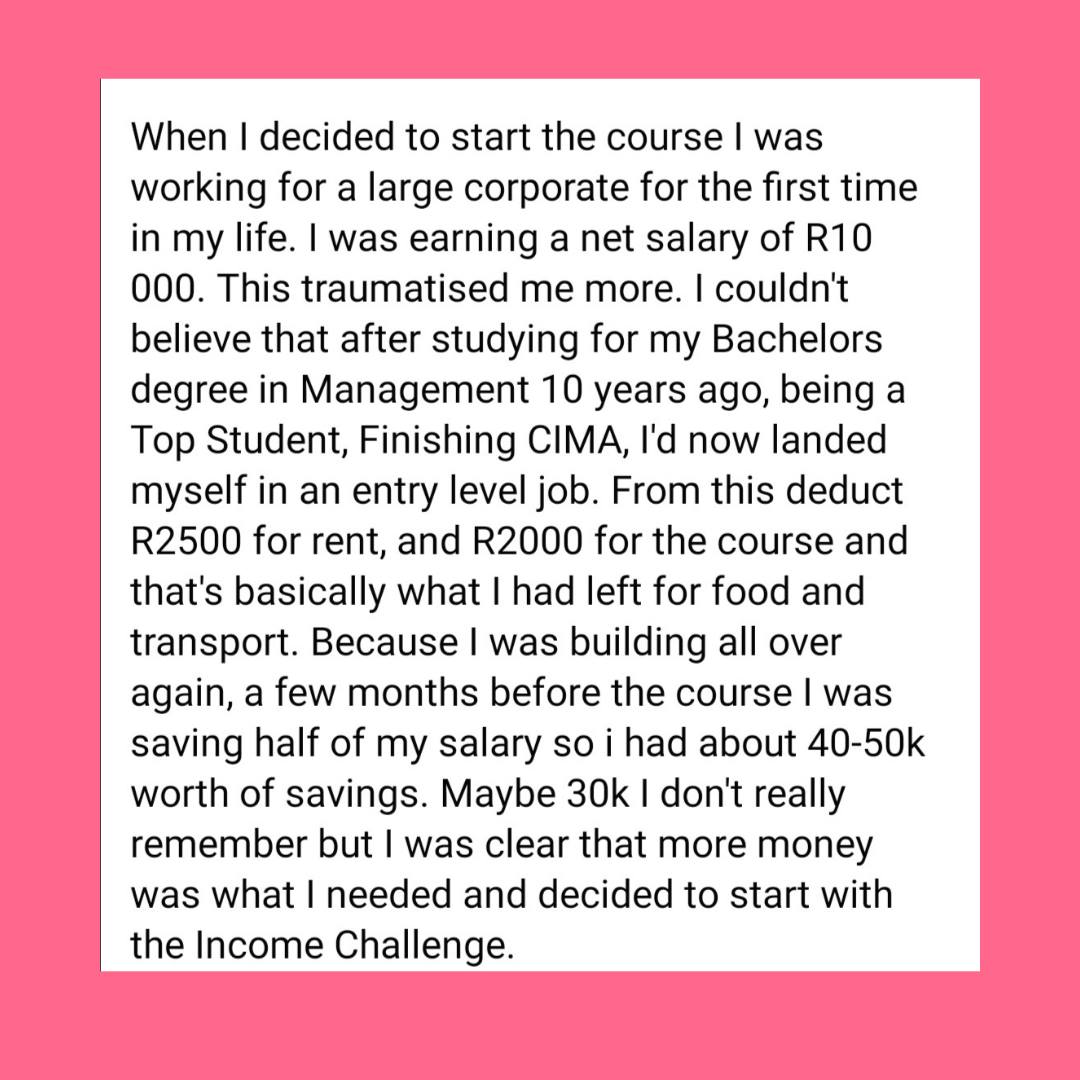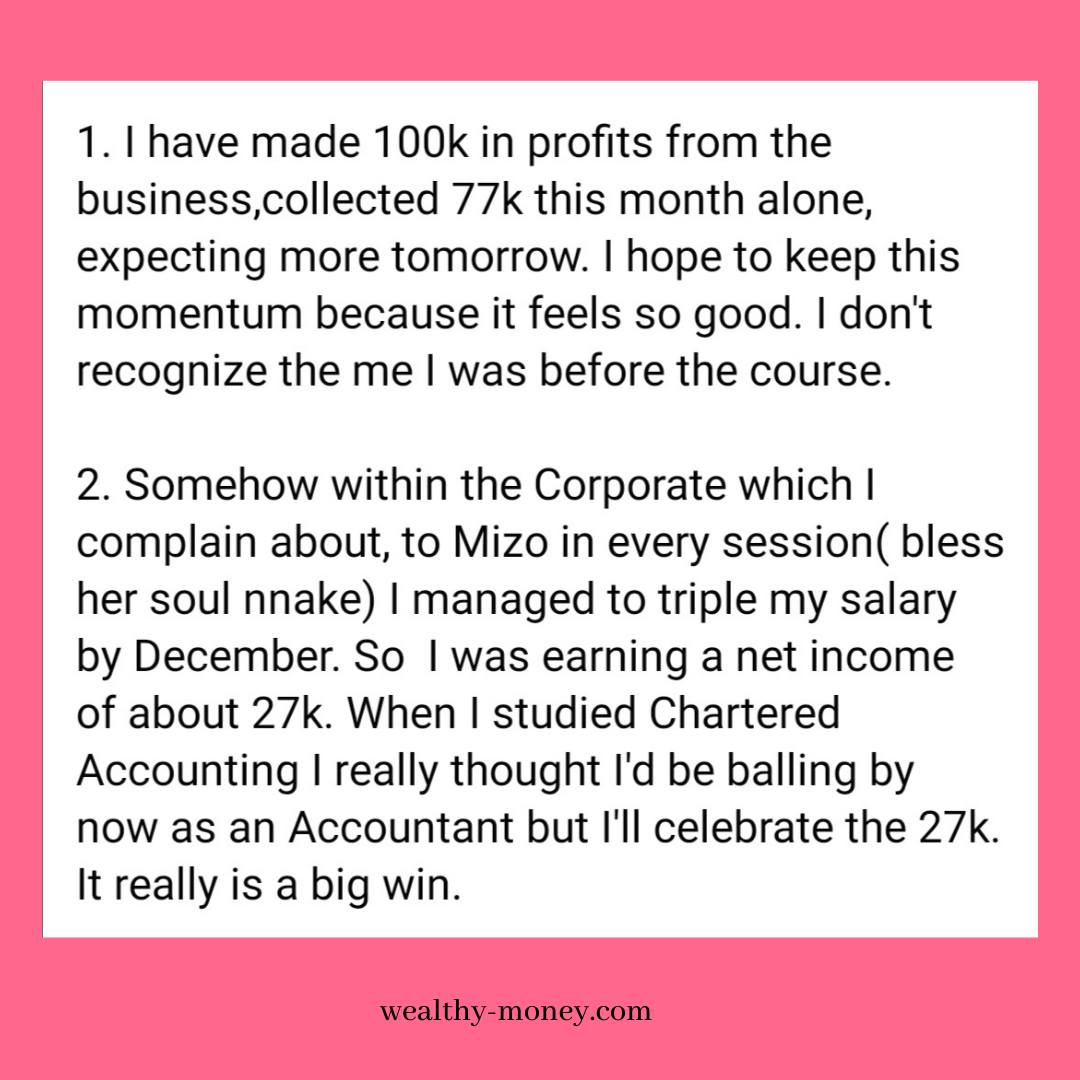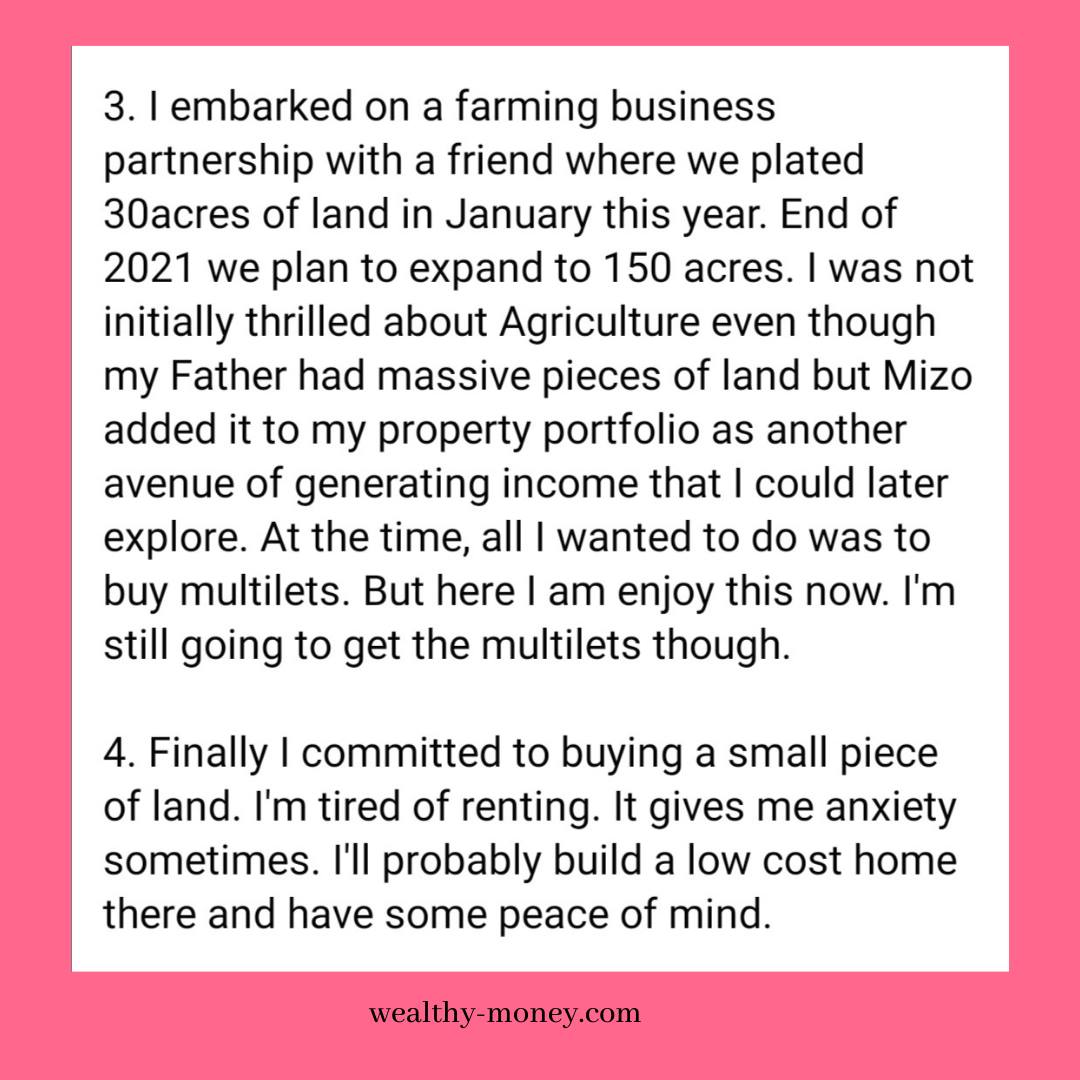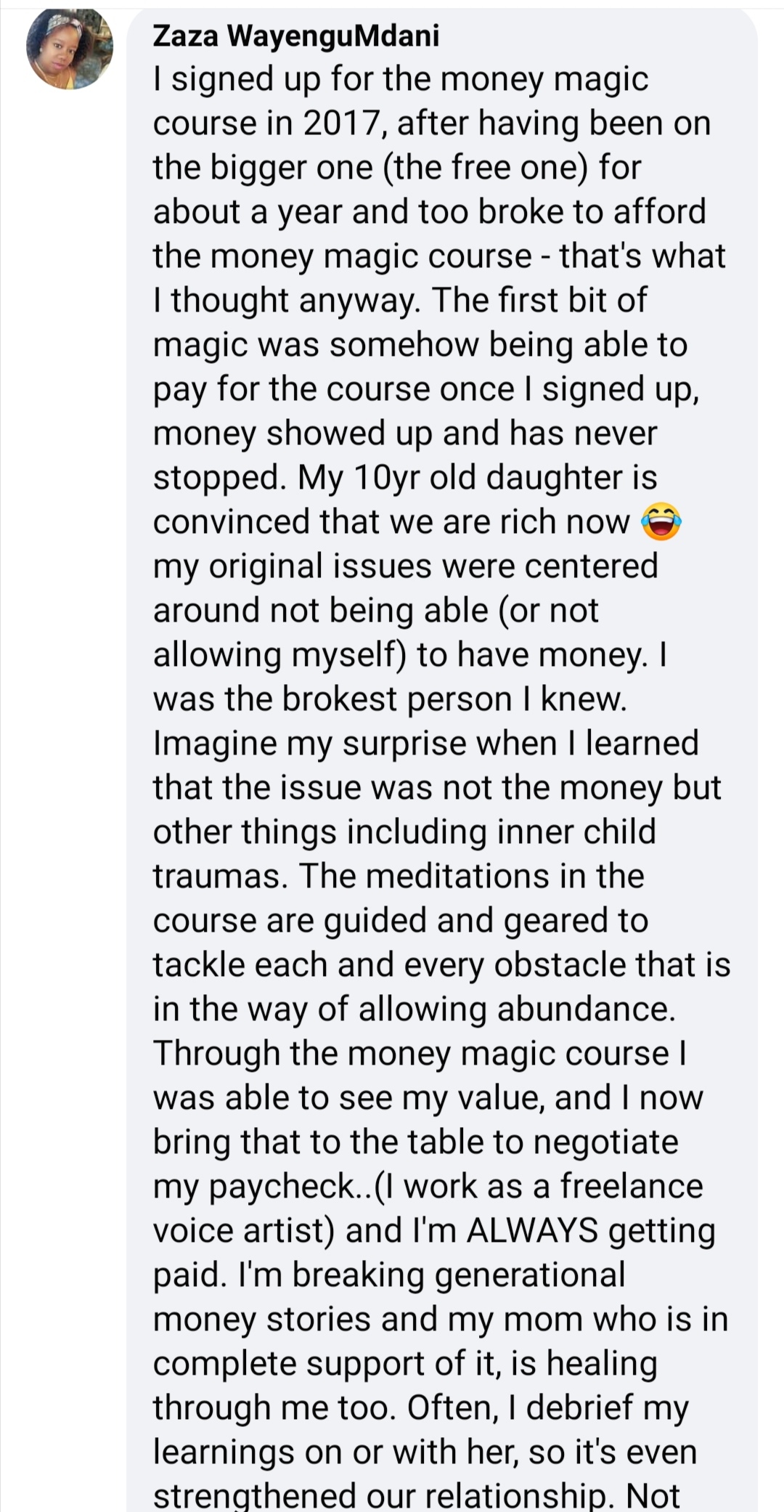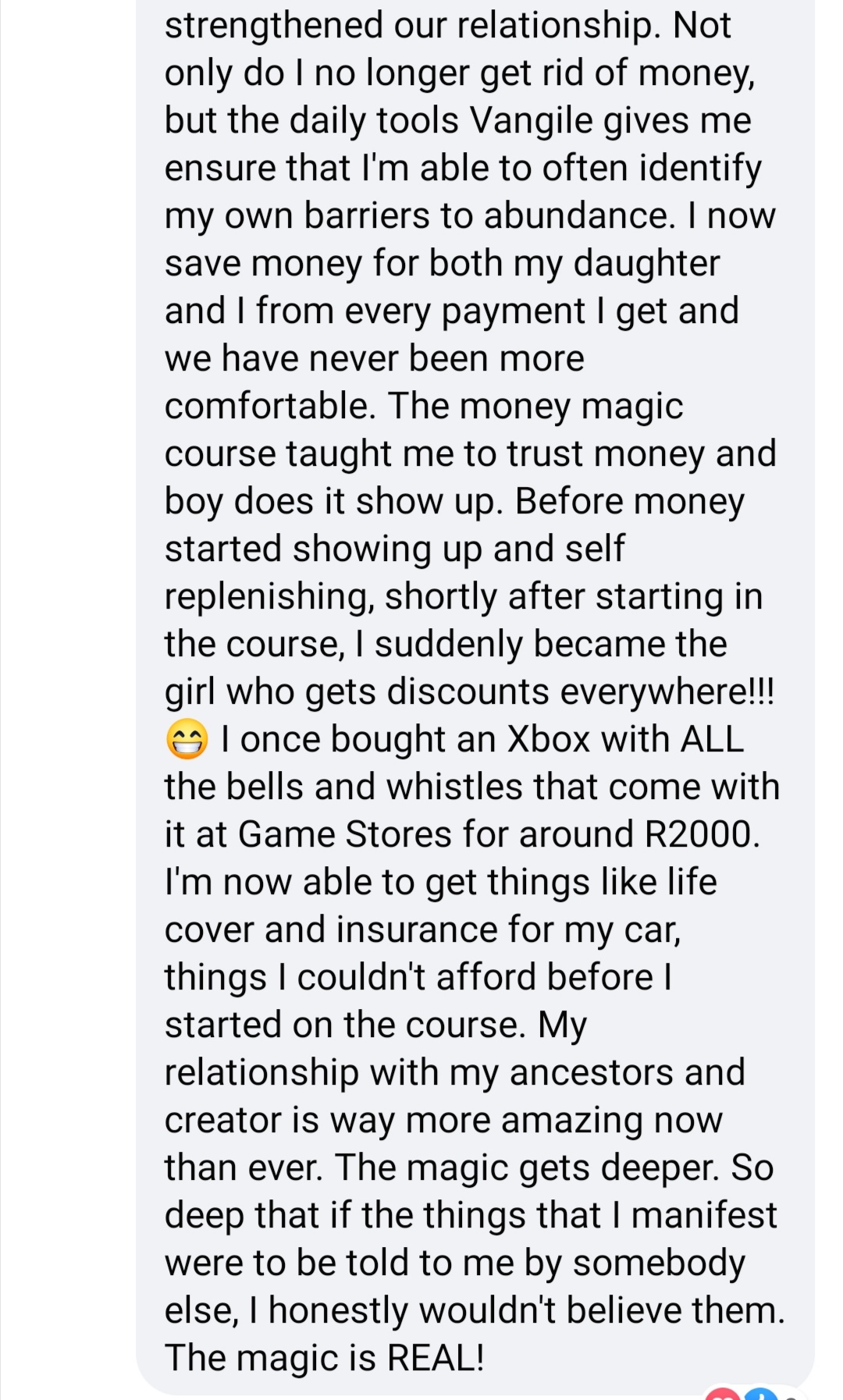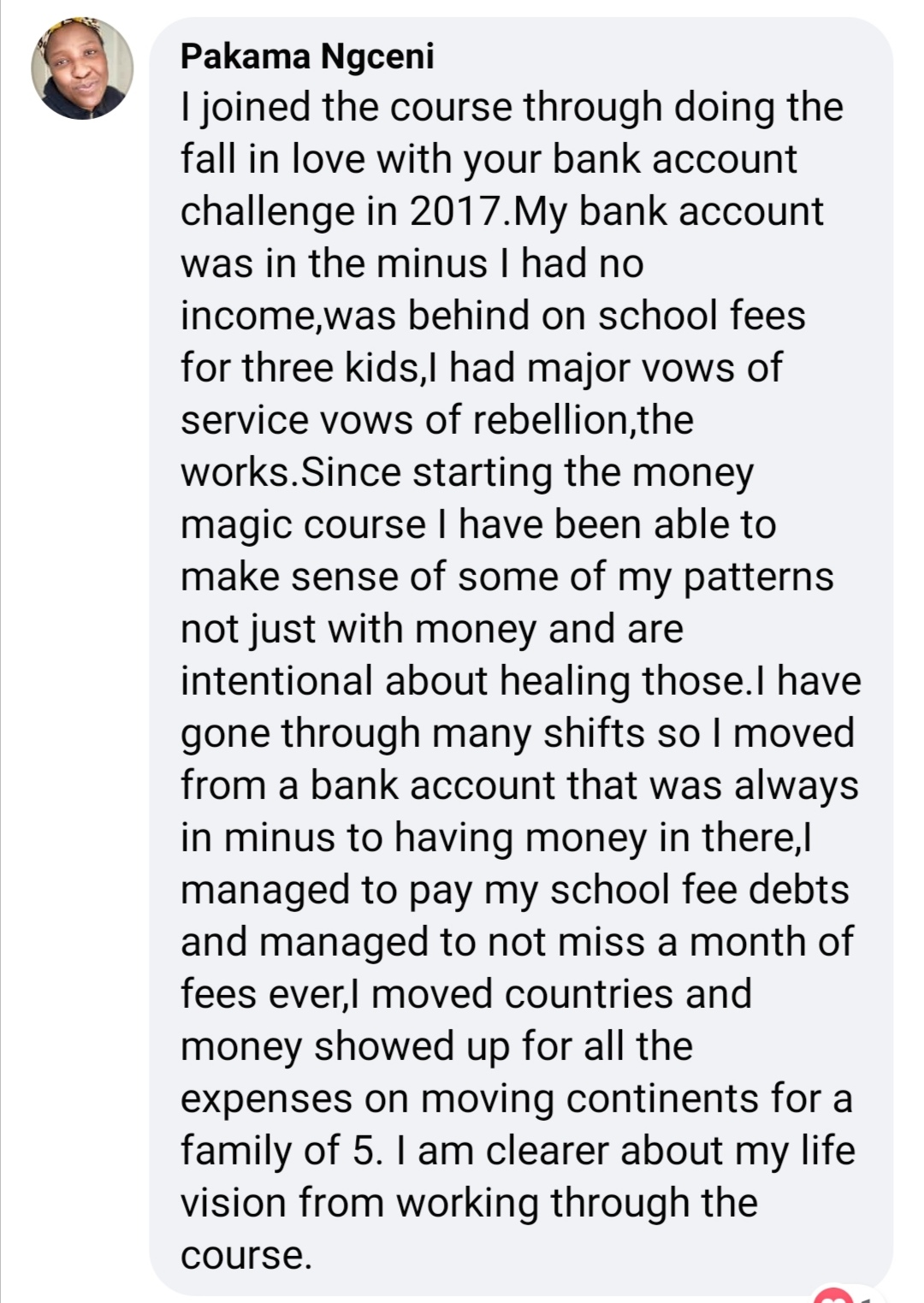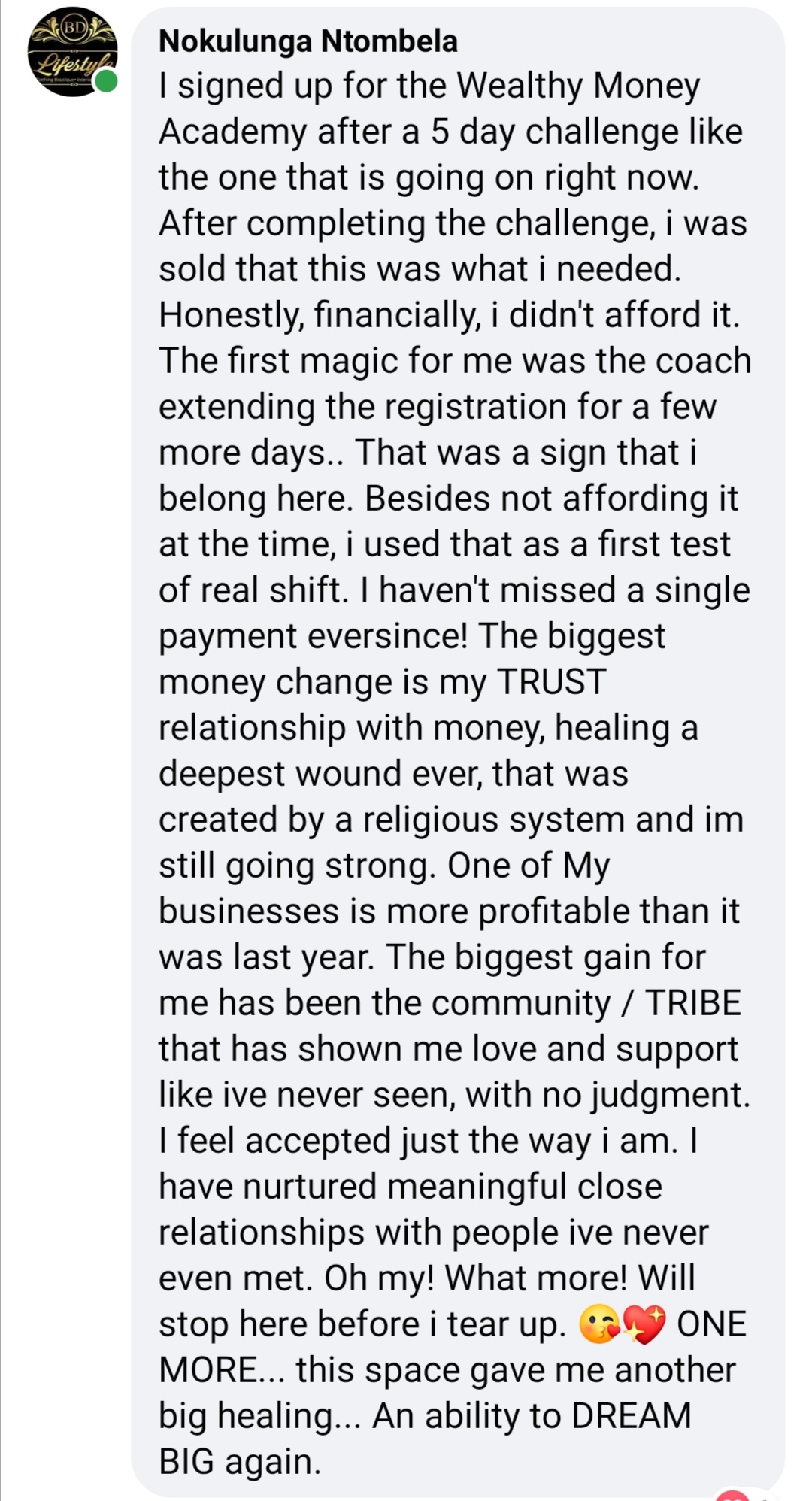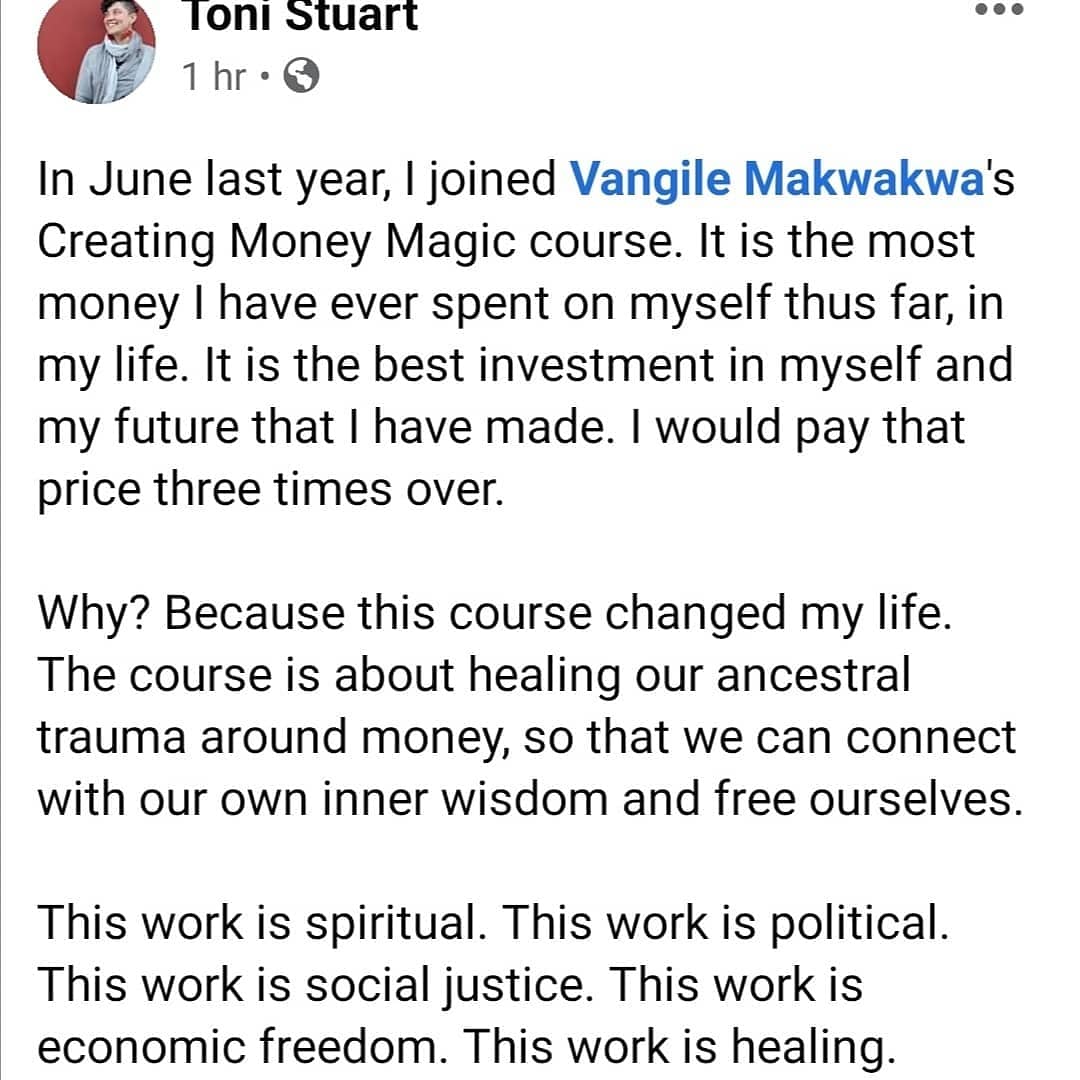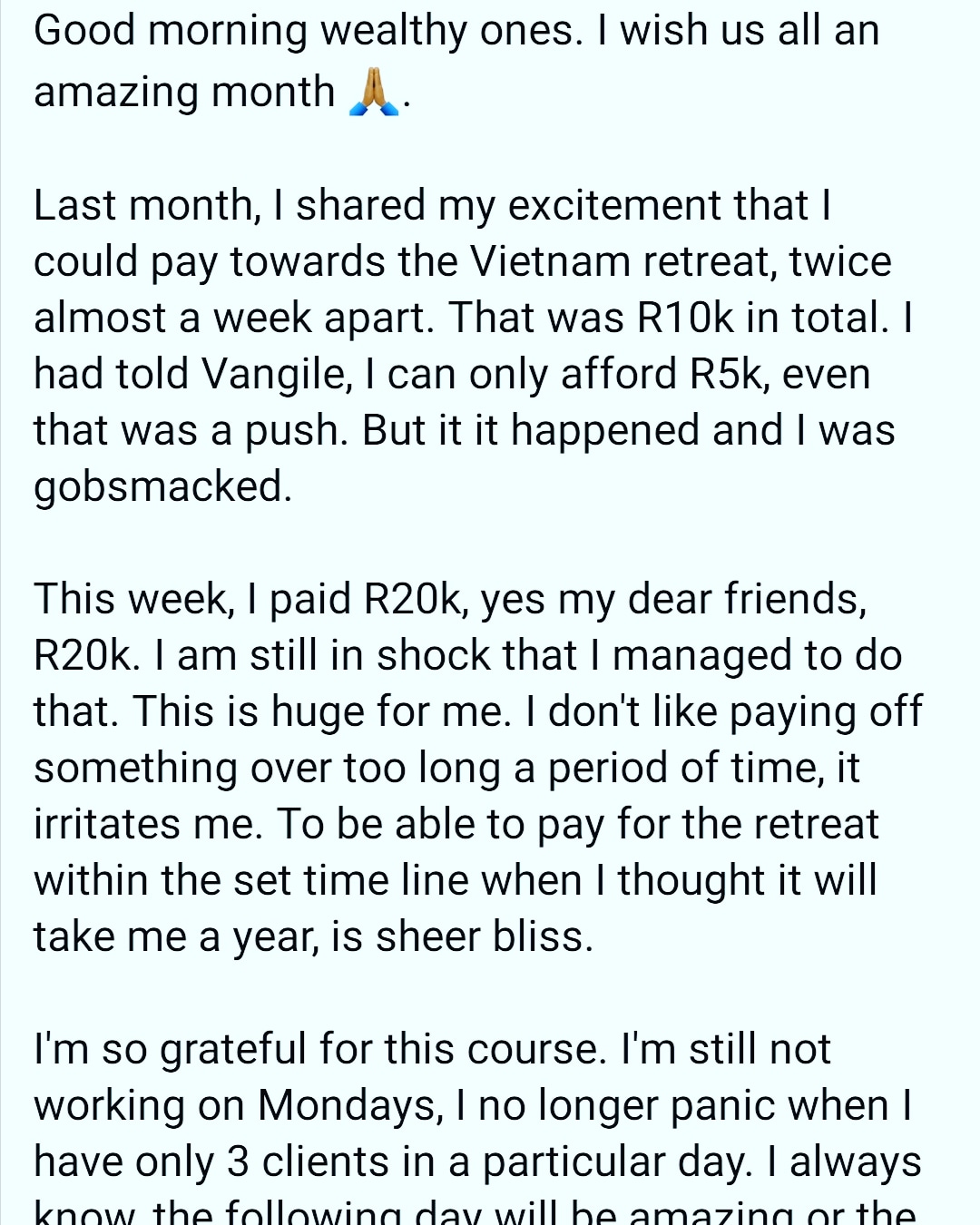 There are so many more students and clients with incredible money stories, in fact I have the Money Magic series, a podcast where I interview students and clients about their money shifts from being in the course.
I'm not going to lie and tell you that you're going to create a consistent stream of income in your business or side hustle overnight. This is not a get rich quick scheme and I know sometimes when we hear some of the students stories it seems like the shifts happen overnight but everyone is different.
The truth is, there are many factors that go into unlocking ancestral wisdom because trauma is layered so even if my sister and I have the same money block and the same childhood experience, it doesn't mean the root cause of our trauma is the same and that we'll do the same lessons in the course even the same experiences. The important thing is to honor your your journey, trust it and do the work.
MY GUARANTEE TO YOU

The Creating Money Magic course is my signature course and I'm sharing every last secret with you and showing you step-by-step how to create a consistent stream of income without leaving out any information.
It's 100% up to date, fresh and in-depth and I am constantly updating what I know based on my research on trauma and money. It's got practical step by step money and entrepreneurial exercise but it also focuses on healing mentally, emotionally and spiritually.
I promise you'll be sending me emails telling me how much you love this program as soon as you start. So how do I know this? Because all the students have emailed me about:
1. Quality

The quality and detail that's gone into this course is something I pride myself on. All the exercises and meditations are my own work based on months of research and experimentation for my books.
2. Clarity

All the lessons in this course are designed to give you clarity on your relationship with money so that you can take action with ease. I'm passionate about helping people get financial breakthroughs, so my team and I are always available by email and social media to answer any questions.
3. Changing your relationship with money

You can't get clarity without seeing a change in your relationship with money and when we start changing our relationship with money, we create miracles! Literally!
Here's exactly what you're getting
The course has 22 modules or lessons. The most important thing to understand is that you don't do this course in a linear manner and there is no set time to do any module because healing is not linear, it's layered and it certainly doesn't have a set time.

One module may take you 2 weeks and another module may take you 3 months and sometimes you may find yourself coming back to the same module over and over again.
Lesson 0
Focus on connecting with your spirit of money which will help you understand your relationship with money and how money wants to relate to you, which will make it easier to create new money habits and price your products and services so money comes easily to you.
Lesson 1 and 22
Sets you up for the rest of the course and teaches you to be in your body. The more you understand your body and how it communicates with you, the easier it is to hear your intuitive nudges any time you deal with money in your everyday life, which leads to money magic.
Lessons 2 - Lesson 5 focuses on your vision and aligning your vision with your strategy, daily action plans, resources and financial behavior. In these lessons you also connect with your higher self so you take action from a space of alignment, which is what creates ease.
We do a few calculations and get out the worksheets in these lessons but the inner work supports all the practical stuff. These lessons will also help you get clarity on how to utilize your resources to get incredible results without slugging away endlessly.
Lessons 6 and 8 focuses on healing our wounded inner child and inner teen, so that they start feeling safe with our income goals and don't create energetic blocks or sabotage us in an attempt to keep us safe by keeping us small.
Lesson 7, 14,15 and 16 focus on our money set points and regulating our nervous system around money so that we feel safe and open to receiving more money, making more money and having more money in our bank accounts.
It doesn't matter how much you affirm that you want more money and love money, if you have a low receiving set point you won't feel safe making more money and will block money or sabotage your efforts to make more money. Or you'll get rid of money as soon as you make it. This is why in these lessons we work with the nervous system and the body so you feel safe with having money and receiving money.
Lesson 9 and 21 focus on healing our family dynamics and ancestral stories around money so we free ourselves from family and ancestral expectations around money. This allows you to bring in your own energy and intention into your relationship with money and allows you to expand beyond your family money story.
Lessons 10 - 12 focused on creating investment portfolios so you start investing your income and start earning money without having to work for it. This is how you start building generational wealth.
Lesson 13 is focused on the spiritual aspects of debt - often we stay in debt, not because we're terrible with money, but because we're refusing to forgive and are holding onto grudges, we stop ourselves from expanding.
Lesson 17 is an extremely important lesson - it's the God Wound lesson which is unique to Wealthy Money (actually 80% of this work is unique to Money Magic course) and no, I am not Christian and this lesson has nothing to do with religion or the religious God, it has to do with our view of our own Divinity and inner power.
Healing the God Wound helps you increase your receiving set point so you. Honestly, if nothing seems to be working for someone and they've tried everything - I send them to the God Wound and I watch the magic unfold.
Lessons 18 - 20 are focused on healing the not good enough wound and our various vows around money.
For example - we focus on releasing the vow of service so you can stop being everything to everyone and can start to choose the people you want to work with, who are willing to pay your fees without hassles, so work feels easy and fun, which means you show up fully, which leads to incredible client results, which leads to more testimonials, which leads to more clients and more money.
Healing our vows of invisibility helps us heal our deep sense of unsafety around being seen and being judged which makes it easier for you to share your work and stop being the best kept secret in town. This means your ideal clients literally find you and want to work with you so it's an energetic match, which makes work even easier and you can charge what you want.
Remember the case study I did with Lungi in video 5 of the 6 part video series where she healed her vows of invisibility and attracted her ideal clients and charged them what felt good to her and they were okay with it?
That's why healing vows is so powerful.
I'm also able to reach you and help you, because a few years ago my life was the complete opposite of what it is now.
I was depressed for almost fifteen years (since the age of 14).
Coupled with that depression, I was over US $60,000 in debt from my student loans.
I was trapped in my own life. My self-esteem was tied to how much money I had. And since I was in debt, you can figure out how that made me feel.
When my first company crashed – I thought my life was over. Fear had been holding me back and causing me to seek refuge in my finances.
That's why I lost almost everything.
But I found the light at the end of the tunnel, and it all lay in my mind. Life and happiness isn't about being safe in how much money you have – it's about being centered and knowing your self-worth.
Creating Money Magic will teach you how to work through releasing the emotions, thoughts and memories holding you back from attracting money, and give you tools, keys and actionable tips you need find your personal freedom through money.
This course is closed for enrollment.
I'm waiting to help you get out of the rut you're in and start living the life of freedom that you've always dreamed of.
You deserve to have a life free from of the anxieties of money, and have the magical life you truly want**.


STILL ON THE FENCE?
LET THESE STUDENT EXPERIENCES INSPIRE YOU
If you're not happy with the course, I stand by my 30-day money back guarantee.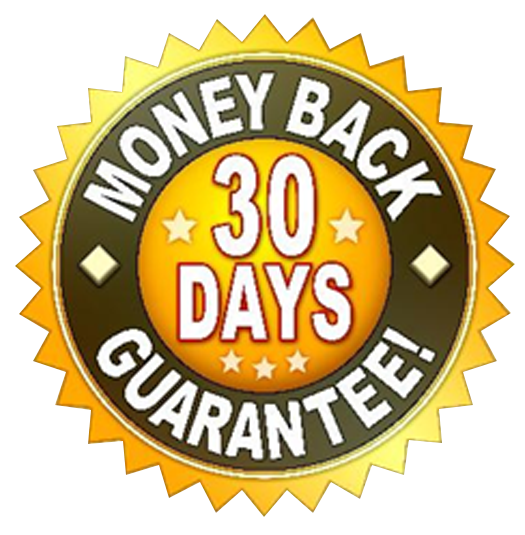 This course is closed for enrollment.
Your Instructor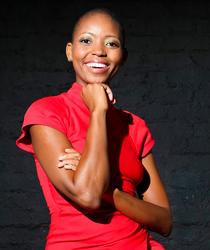 My name is Vangile Makwakwa, I help women of color heal ancestral money trauma so they fall in love with their bank accounts, increase their income and live their best lives.
I'm the Founder of wealthy-money.com and the The Author of "HEART, MIND AND MONEY: Using emotional intelligence for financial success."
I am also the host of the Property Magicians Podcast.
Course Curriculum
Start Here: How to get the most out of the #MoneyMagic course
Available in days
days after you enroll
Free Gifts (Optional)
Available in days
days after you enroll
Weekly Goal Tracking Worksheets - TO Do Weekly
Available in days
days after you enroll
Frequently Asked Questions
When does the course start and finish?
The course starts now and never ends! It is a completely self-paced online course - you decide when you start and when you finish.
How long do I have access to the course?
How does lifetime access sound? After enrolling, you have unlimited access to this course for as long as you like - across any and all devices you own.
What if I am unhappy with the course?
We would never want you to be unhappy! If you are unsatisfied with your purchase, contact us in the first 30 days and we will give you a full refund.