This course is currently closed for registration. Please fill in the form below to get on the waiting list to get a notification when we do open.

Today is the last day you'll spend worrying about money and feeling like a slave to that number in your bank account.

You're one in millions of people who want more from life, but just can't figure out where they're going wrong.
You're not alone in your struggle, but it sure feels that way.
You work so hard. But you have just enough money to keep you going till your next paycheck.
And no matter what you do, you always find yourself anxious and worried about money.
You harbour dreams of living a happy life with epic adventures – complete with the financial freedom to travel and experience anything that your soul desires.
Yet, you can't sabotaging yourself and seem unable to stop playing small and worse - you're secretly waiting for permission to follow your dreams.
Until today.
I'm Vangile Makwakwa, and I'm going to change your life.

You want fulfilment out of your life. You're tired of living paycheck to paycheck and having anxieties about money.
You want money to flow to you, so you can have TOTAL freedom to do whatever you want – even if that means living in a different country every six months.
Close your eyes for a moment.
Visualize a life where you don't feel choked by lack of money.
What would it feel like to travel anywhere you want?
What would your entire life be like if you had savings and money to do the things you truly love?
What would it feel like to make more money doing what you love?
Most importantly, how would feel without the stress of how you're going to pay for your life?
Here's something that I know about you.

The fact that you're on this page tells me that deep down you crave a debt-free life, and you long to connect with the real you.
You crave a life of total freedom – financial freedom, freedom to travel and the ability to live life on your own terms.
The real you wants to have fun with money and enjoy a carefree magical life
And in case you didn't know, the real you isn't ruled by money.

The real you is a sentient being, fully in touch with the power of your consciousness.
The real you is longing for release from the traps of an unhealthy relationship with money, and craves the spiritual and emotional release.
The real you wants personal freedom through money.

That's exactly what I teach in this course.
This course ISN'T that financial freedom mumbo-jumbo you get sold on by all those "gurus" who only want to take your money.

It's everything that they didn't tell you, and then some.
This is a different take on wealth.

This isn't about fooling yourself into "thinking" your life is great – this is about actionable steps that will actually make it great.


Creating Money Magic is the system you need to teach you how to create the life of PERSONAL FREEDOM that your soul aches for. It's all about:
Creating the lifestyle you want, not the one that your current income allows you
Crystal clarity about your current finances so you can move forward with gusto

Learning how to live with intention and ask for what you want

Handling your finances with grace and ease

Feeling powerful with money even if you don't have much of it

Setting bold limitless money goals that grow steadily over time

Turning your financial blocks into benefits

Feeling safe with or without money

Releasing all worries about money and having fun with money

Trusting money to show up as and when you need and want it

Living your own life based on your own values
Giving yourself permission to play big and own your greatness

Accepting your place as a member of the global village, and leveraging that knowledge to author your own life of freedom
Creating Money Magic brings you the clarity you need to enjoy the gift of life in every way possible.

This course will teach you to turn money into your friend and lover and to release any emotional traumas you have about money.
This course is about joy, and how you can achieve whatever you want with more ease and less angst.
I know your financial life sucks right now.
That's why I want to show you the secrets that will completely reprogram your mindset and make you excited to wake up every morning with the freedom to experience The Universe's blessings.
How do I know that I can help YOU? Because I've helped many just like you. Listen to what they have to say: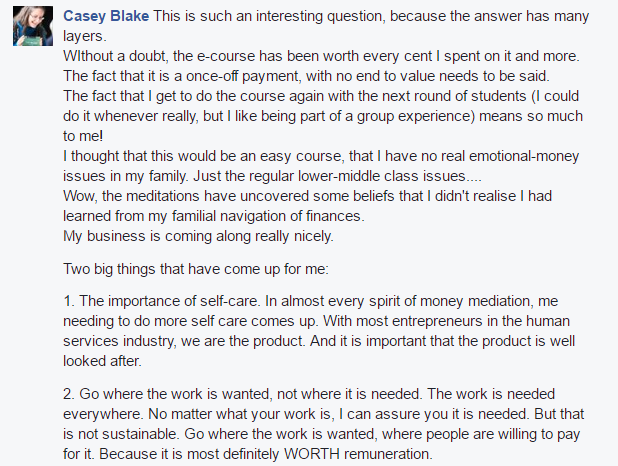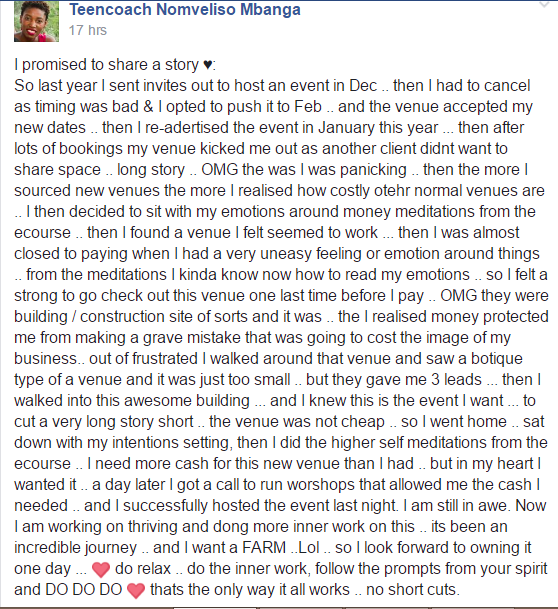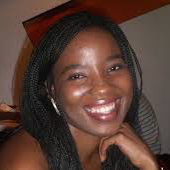 The course was recommended to me by two friends who had been on the course. The course has given me skills to elevate my emotional intelligence...it's given me tools to separate my emotions and view them as communication between myself and the universe.

I'm now focused on funding my business and have improved communication with myself.....connecting my ideas to my emotions. It's an ongoing process but I now view the world according to my wishes/goals/heart desires and any emotions/conflicts/discomfort I feel I now try diffuse as a message from the universe.- Dimakatso Nhlapho (@SaraBaartjies), Founder, Sara-B Fashion Line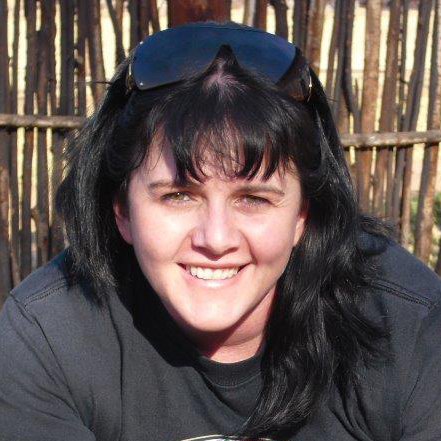 I was a little skeptical going into the course that it would be beneficial for me, however I was pleasantly surprised to find that it was really relevant. The exercises were thought provoking and made me face, and address a lot of issues around my feelings about money and myself.
From the first exercise – my letter to money – and throughout the rest of the course, I was challenged and forced to extend my thinking in order to make serious changes. I have never had a written budget or goals, and now have both, with a monthly budget and savings plan, as well as 3, 6 and 12 month's goals. I have also put a 5 year plan in place for relationships and finance and look forward to reviewing them in 2020, when I will have achieved them and more. -Colleen Foyn (@LadySayFuckALot)

I'm also able to reach you and help you, because a few years ago my life was the complete opposite of what it is now.
I was depressed for almost fifteen years (since the age of 14).
Coupled with that depression, I was over US $60,000 in debt from my student loans.
I was trapped in my own life. My self-esteem was tied to how much money I had. And since I was in debt, you can figure out how that made me feel.
When my first company crashed – I thought my life was over. Fear had been holding me back and causing me to seek refuge in my finances.
That's why I lost almost everything.
But I found the light at the end of the tunnel, and it all lay in my mind. Life and happiness isn't about being safe in how much money you have – it's about being centered and knowing your self-worth.
Creating Money Magic will teach you how to work through releasing the emotions, thoughts and memories holding you back from attracting money, and give you tools, keys and actionable tips you need find your personal freedom through money.
By the end of this course, you'll learn how to be free within yourself and how you can use the Spiritual to get what you really want.
I'm giving you my own blueprint that I use to live the life I do now:

I've cycled around Nantucket, Massachusetts

I've been stuck in a rainforest in Tobago, The Caribbean

I've explored the ancient sites in Madagascar

I've hosted epic vegan lunches for an entire year in Boston, Massachusetts

I spent 2.5 months living in Goa, India and getting my tantric yoga teaching certificate

I road biked in Swaziland

I spent a year living and cycling around London

I partied like a rock star in Boston, Massachusetts

I've slept on a beach in Trinidad after hosting an all-night workshop on gender violence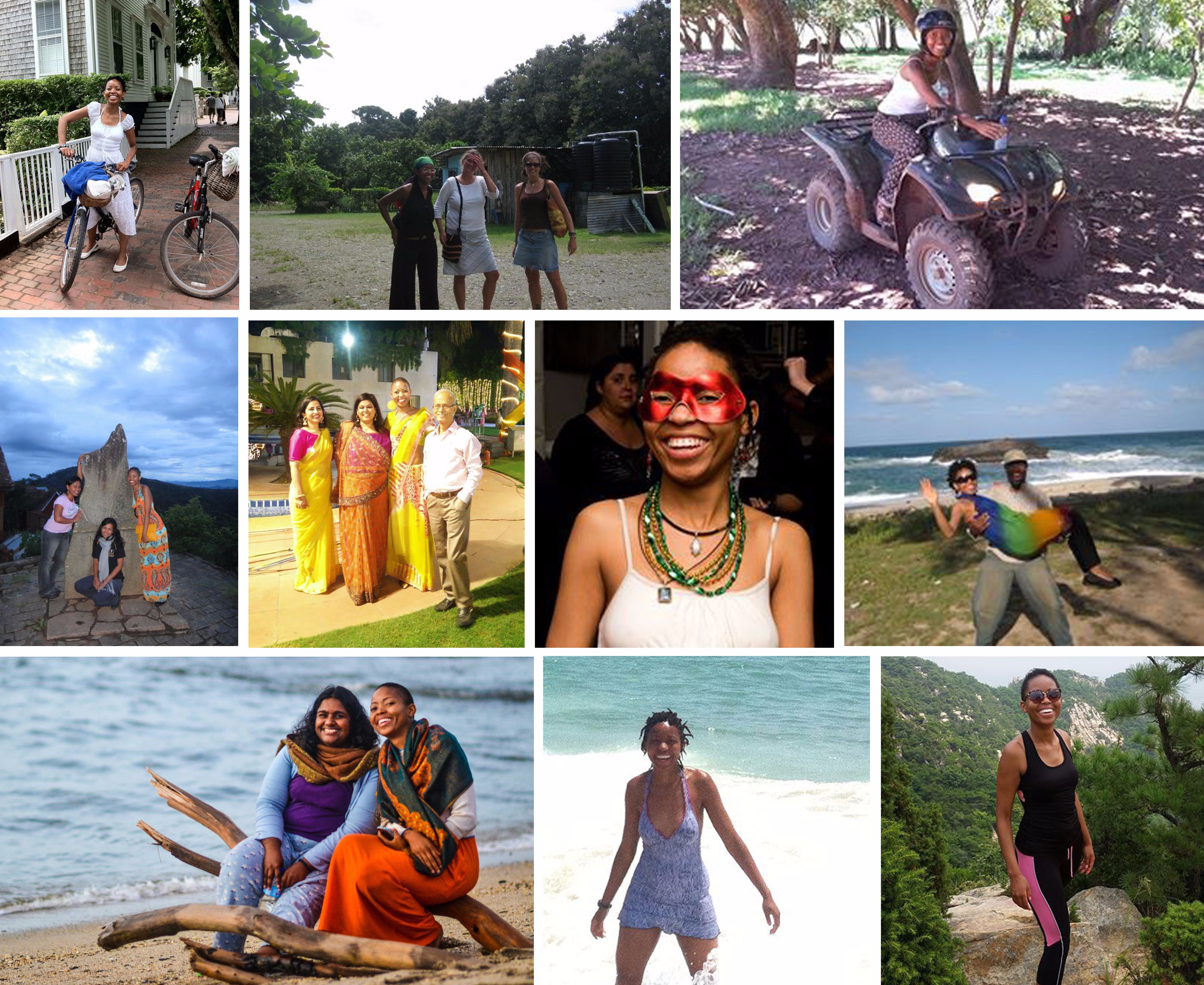 And that's just the tip of the iceberg. I've got hundreds of experiences from the tens of countries I've visited all around the world.
Right now, I'm currently living in South Korea! I have a Finance Degree from the University of Cape Town, South Africa and an MBA from the Simmons School of Management in Boston, Massachusetts.
I still use all the exercises in the course today!
It's an evergreen investment.
Plus, for every person who buys this course, another woman who can't afford it will be given it through our scholarship program!*
Still, you must be wondering how I managed to live the life I do now?
I've learned to create my own money magic.
I've learned to feel safe without money, and that's allowed me to attract it whenever I want or need it, all around the world.
Creating Money Magic will help you find self-belief; feel emotionally connected to a vision that's authentically you and will help you find JOY.
Joy doesn't need specific condition to appear in your life, like a monetary figure or a particular weight. Inner peace is all around you, and it will help you to attract the money you want, so you can live life on your own terms.
You just have to know how to tap into this inner peace.
I'm going to show you how.

Here's what you'll learn in Creating Money Magic:

How to connect and tap into the spirit of money and use it to enact positive changes in your life

How to connect with the Physical manifestation of money

How to be present with your thoughts and use this new found ability to influence how you interact with the world, and money

How to release negative emotions stored in money to make it possible for you to attract it

How to craft your financial vision: one unique to you and that resonates with your soul's alignment

How to change your financial behavior and improve on it for years to come

How to heal your money karma so that you can attract money and all things related to it!
And much more!
Creating Money Magic is chock full of guided meditations, videos and invaluable information on how to create the life of joy and freedom you crave.
Plus, every single lesson has videos, audios, meditations and worksheets. And everything is downloadable – so you can watch, listen and read on demand wherever you want.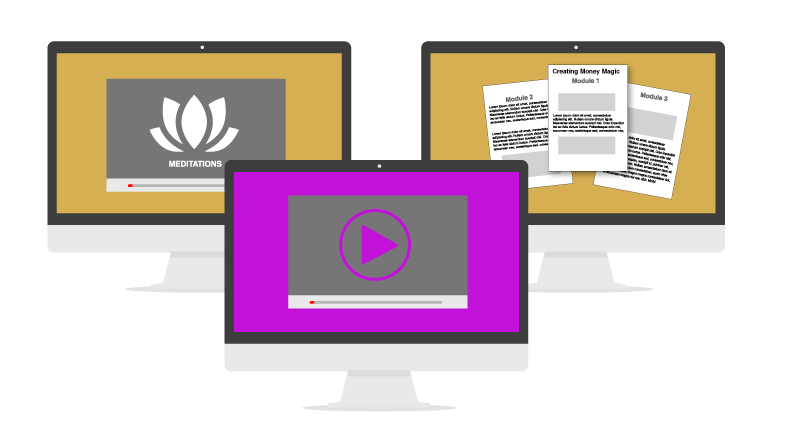 Including 7 hours of bonus audio lessons on Connecting with the Divine in Money (valued at $297).

Not only that – but when you sign up for the course, you get a free copy of my book Heart, Mind & Money and access to the money magicians tribe so where you can share and connect with other money magicians. You'll also get access to our private webinars and guest speakers. So you don't have to do this alone!


Creating Money Magic is for you if…
…You long for a complete mindset shift.
…You want to change your approach to money and your relationship with it.
…You want to be able to trust the Universe.
…You want to feel safe without money, so you can let go of fear and have the courage to pursue your dreams.
…You want to experience true JOY.
Creating Money Magic is NOT for you if…
…You don't want to put in the work.
…You don't want to make the emotional jump.
…You don't want to see and know the truth.
This course is closed for enrollment.

I completely fell in love with your work and it could not have come at a better time. I found my entrepreneurial spirit, I found my passion, my motivation, my drive. I let go of the hooks of money (there's still work to do here).

Vangile, I freed myself from the shame and worry with the insights I got from your book. Money does not equal my worth.
The letter writing exercise in the course was amazing! I actually did it after the first meditation. The meditation was extremely powerful. At the beginning of the course when you asked us to connect with the spirit of money, I could not face him, he was scary, like a businessman that was going to shout at me for doing something wrong, I just wanted to run away.
But I asked my angel guides to support me. And in that moment, money started transforming into the hot beautiful man that was trying to go on a date with me. I realized that I've been his employee and treated him like shit. We had a beautiful discuss about how we can make this relationship work. Felt complete love and peace after this exercise.
Additionally, the layout, look, feel and usability of the course is excellent- it is really easy to use.- Leoni Liebenberg Cortzee
I'm waiting to help you get out of the rut you're in and start living the life of freedom that you've always dreamed of.
You deserve to have a life free from of the anxieties of money, and have the magical life you truly want**.


STILL ON THE FENCE?
LET THESE STUDENT EXPERIENCES INSPIRE YOU
MY GUARANTEE TO YOU

I promise you'll be sending me emails telling me how much you love this program as soon as you start. So how do I know this? Because all the students have emailed me about:
1. Quality

The quality and detail that's gone into this course is something I pride myself on. All the exercises and meditations are my own work based on months of research and experimentation for my books.
2. Clarity

All the lessons in this course are designed to give you clarity on your relationship with money so that you can take action with ease. I'm passionate about helping people get financial breakthroughs, so my team and I are always available by email and social media to answer any questions.
3. Changing your relationship with money

You can't get clarity without seeing a change in your relationship with money and when we start changing our relationship with money, we create miracles! Literally!
If you're not happy with the course, I stand by my 30-day money back guarantee.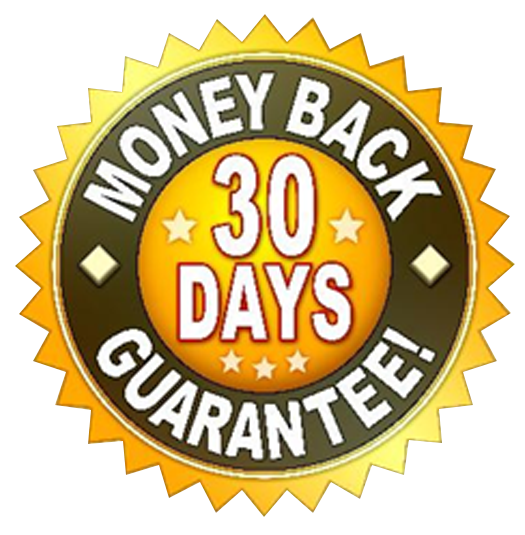 This course is closed for enrollment.
Your Instructor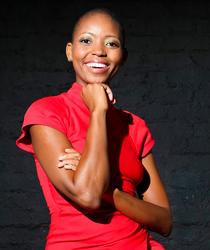 My name is Vangile Makwakwa, I'm the Founder of wealthy-money.com and the The Author of "HEART, MIND AND MONEY: Using emotional intelligence for financial success."
I'll be guiding you through this ground breaking boot camp.
I've used and devised all of the course material in my own life. Growing from heavily indebted graduate to a financially in control first time homebuyer on my favorite beachfront!
You can learn more about me and what I do in the video below:
Change the narrative of your money story today!
Course Curriculum
Free Gifts (Optional)
Available in days
days after you enroll
Weekly Goal Tracking Worksheets - TO Do Weekly
Available in days
days after you enroll
Frequently Asked Questions
When does the course start and finish?
The course starts now and never ends! It is a completely self-paced online course - you decide when you start and when you finish.
How long do I have access to the course?
How does lifetime access sound? After enrolling, you have unlimited access to this course for as long as you like - across any and all devices you own.
What if I am unhappy with the course?
We would never want you to be unhappy! If you are unsatisfied with your purchase, contact us in the first 30 days and we will give you a full refund.